Performance Review
By using Talygen you can dramatically automate, simplify and streamline the complete employee performance review process.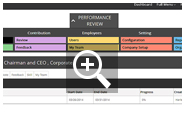 Our goal is to provide you cutting edge approach in administering the employee performance review online and place you at the technological fronts for crucial HR and Managerial functions. We enable you to incorporate feedback, goal and skill into performance review process. Talygen empower you cover the detailed information of entire review period right at your finger tips, whether you are conducting frequent review or performance appraisals.
Key Features

Reviewers Chain Sequence
Talygen performance review enable you to add multiple reviewers in a sequence chain. The reviewers chain sequence allows the review to pass through multiple levels step by step.

Full Overview of the Review (User)
The User can have the full overview of his/her performance review process.

Monitor Individual feedback, skill and goal
Talygen enable you to monitor individual feedback, skill and goal of the user.
Benefits
Eliminate paper work and saves time.
To provide feedback to employees regarding their performance and related status.
Helpful in identifying the strength and weakness of the employees.
Maintaining records in order to determine the compensation packages, wage structure, appraisals etc.
Improves communication between employees and employer.