How to update own profile?
Complete your profile and stay updated at TALYGEN. To update your profile follow the below given steps.



For an instructional demonstration video click here.

1. Click on your profile icon.
2. In general settings update your First name, last name, email ID, date format, time format, gender and time zone. Click on enable to activate data loss warning message. Click on browse to change the profile picture. Click on save to update the settings.




3. To change the password, click on change password button. Then enter the existing password, new password and confirm the new password. Click on save to change the password.
4. To deactivate account, click on Deactivate account button and confirm the deactivation.
5. Next click on Communication services tab. here you can add your communication services like phone number, skype etc. Now select the communication type, enter the address or screen name and note/ description. Click on add to add a new communication service.
6. Click on additional addresses tab, here you can update the address. To add a new address, enter the address line 1 and 2. Select the country, enter the state, city, zip code, description and check mark if you want the address to be visible to client. Click on add address to add a new address.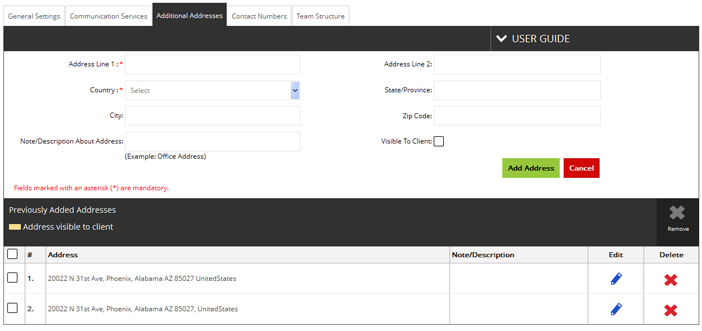 7. Click on Contact number tab to add contact number. Simply enter the contact number and description. Click on add to add a new number.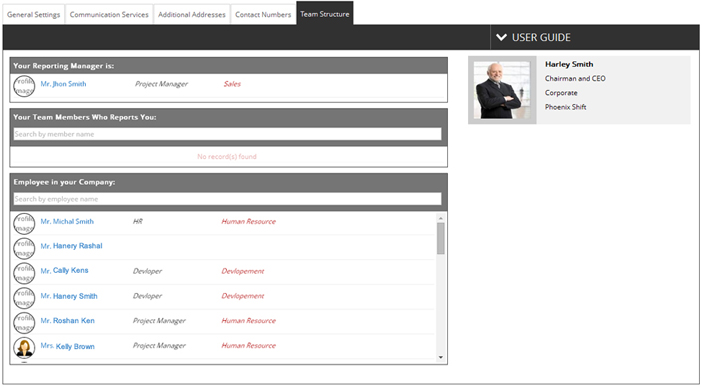 8. Click on team structure & Simply drag and drop the users from 'employees in your company' to 'your team members who report you'. Then click on save to update the team.