Revolutionary Time Tracking
Optimize all aspects of your business with Talygen's intuitive employee time tracking solution. Save both time and money by maximizing resources. Our time tracking tool for employees provides a holistic approach to viewing and analyzing your entire workforce on one platform. With the help of Real-time Insights, you can improve your work-life and maintain productivity. We ensure the best time tracking experience for remote employees with our well-developed employee time tracking tool.
Maximize Resources
Our employee time tracking app helps you know everything your employees accomplish daily.
Tracking remote employees allows you auto-identify your employee's slacking-off.
Our Employee time tracking tool offers real-time user insights to estimate workflow productivity & optimum utilization of resources accurately.
Automated screenshot capturing let your resources perform better.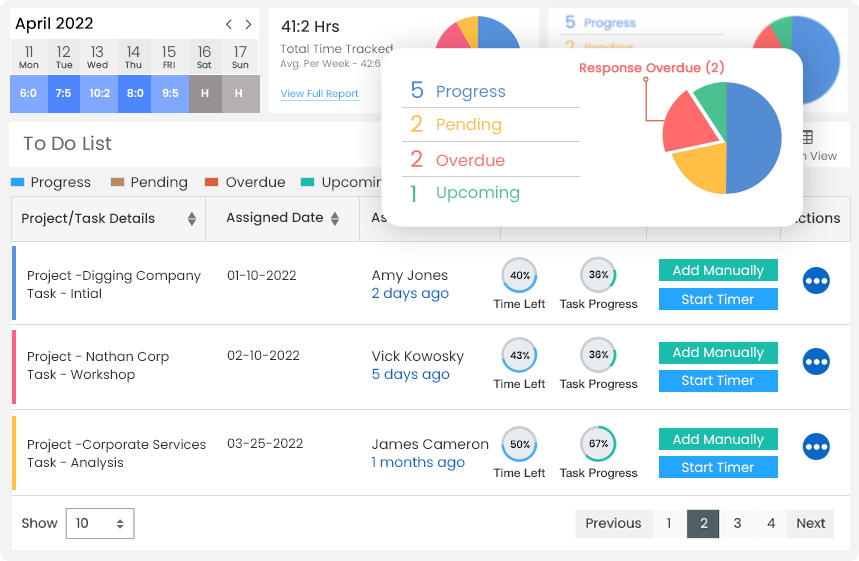 Flexible Time Tracker
The employee work tracker can be paused at any time.
Once work is resumed, the time tracker can be restarted.
Time entries can also be inputted in bulk.
Users can also offline track time & manually enter time entries.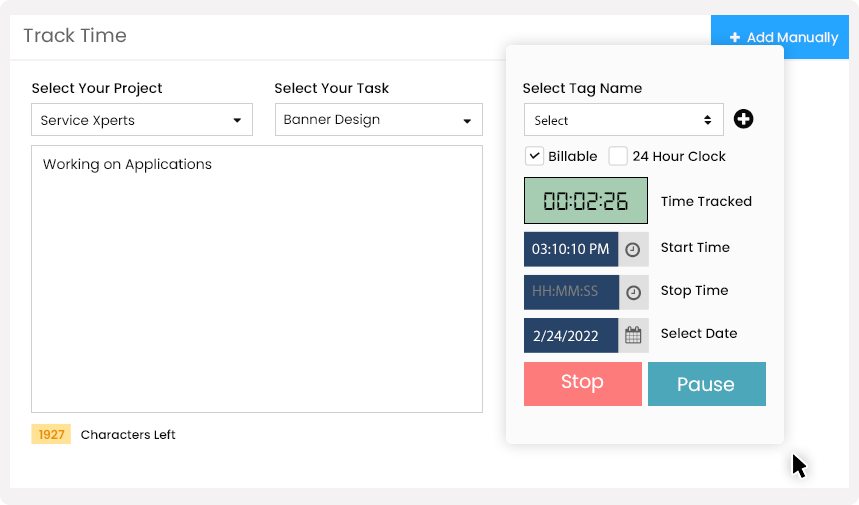 Track on All Devices
Time can be tracked on the go using Talygen's mobile app.
The mobile app is available to download on iOS and Android.
The Mobile App of time tracking tool allows you to keep updated timely & on time.
You can get your full business details anytime & anywhere you want.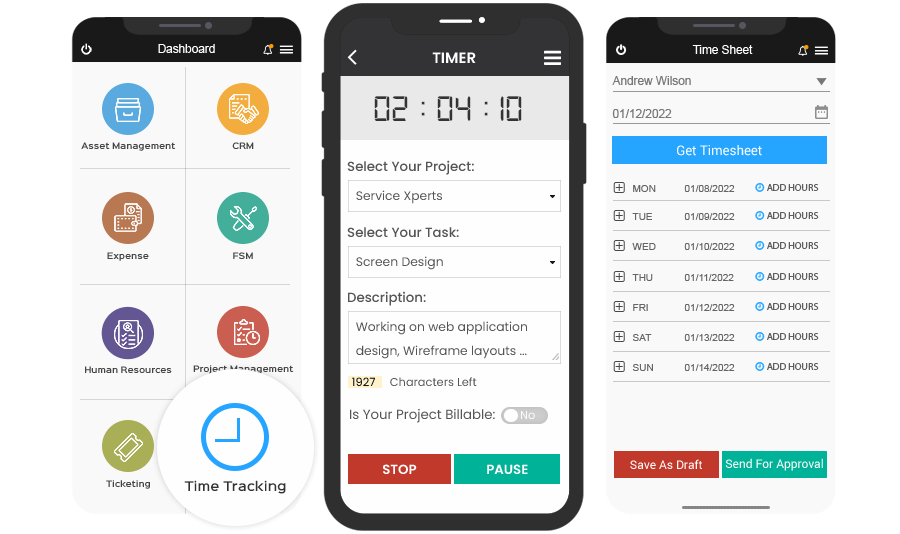 Increase Accountability
The employee time tracking displays precisely what users have been doing.
Time tracker shows how much time was spent on tasks.
The remote employee time tracking shows websites visited, time spent on sites, keystrokes, and mouse clicks.
Employee time tracking tool lets your employees be more productive; when they know their work is getting monitored.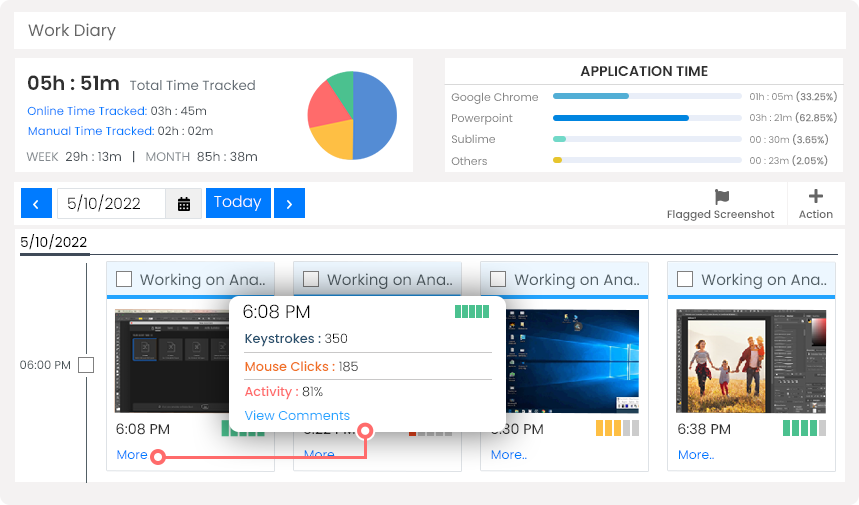 Employee Monitoring
Managers can use time-tracking reports to accurately pay employees and bill clients for hours worked.
Remote employee time tracking software ensures an increase in work efficiency & transparency.
With time tracking software for employees, employees can get real-time insights into employees' work productivity.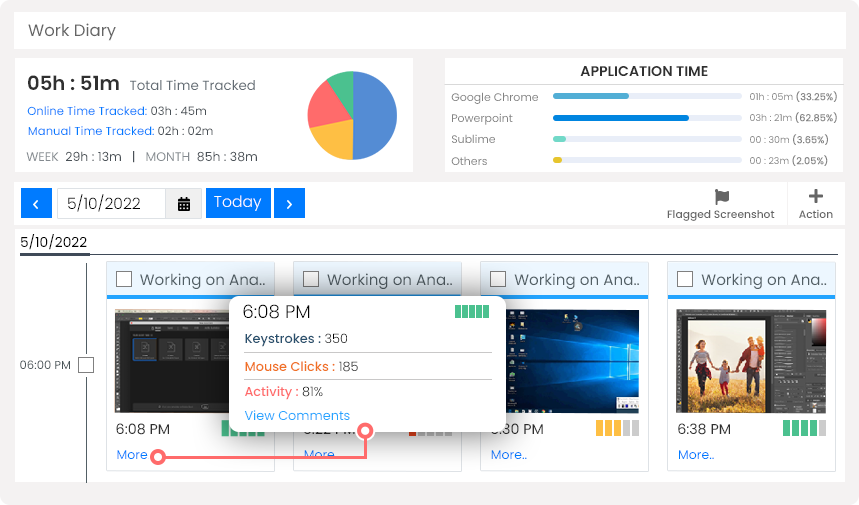 Precise Project Insights
Integrates with Talygen's project management module.
Managers can also create reports on workers' time tracking.
You can save a lot of time with customized project cloud timesheets.
The employee work tracker allows for efficiently meeting project deadlines.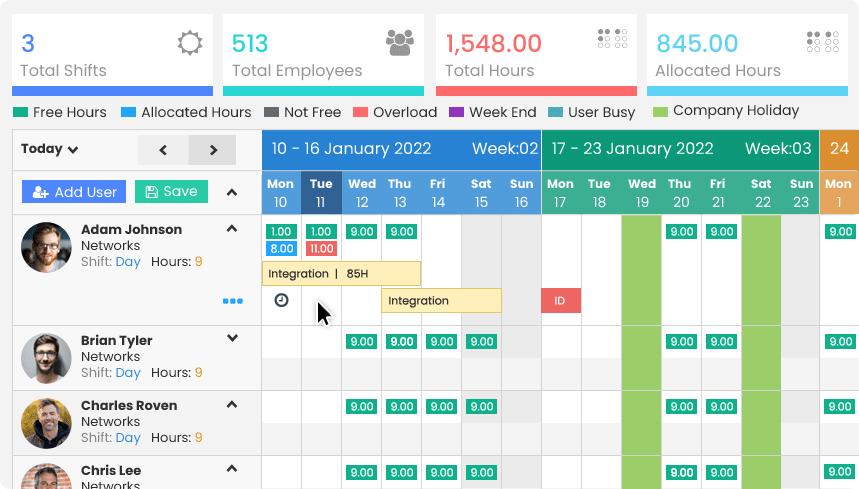 Features of Time Tracking
Comparing Planned Costs and Actual Cost
Measuring Employee Performance
Intuitive Timesheets
Pause/Resume Feature
Detailed Reports
Offline Time Tracking
Time Tracking on the Go
Auto Detect the Users Time Zone
12/24 hour Format Time capturing
Activity Logs
Bulk Time Entry
Set Approval Rules
Manual Time Tracking
Manually Log Time
Calendar View of Tracked Time
Generate Invoices based on Time Logs
Virtual Users
Flag Track Entry
Offline Time Tracking
Time Spent on a Project
Report Project Progress
Screenshots (via the Desktop App)