Mac Desktop Application
Mac OS
Mac OS X Lion/Snow Leopard
New Version launched, please upgrade now.
Please uninstall the previous version to install new version of this application.
How do I download the Talygen Application for MAC?
Click on the DOWNLOAD button. It will open a popup window from where you can save the .dmg file of the application on your hard drive.

Tips: JDK 1.7 Required.
If you experience any problems downloading or installing the Talygen Application, please contact us.
How do I Install the Talygen Application for MAC?
Follow these steps to download and install the Talygen application for MAC.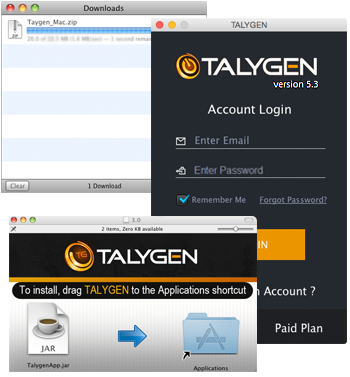 1. Download the Talygen application, which includes a .dmg file. Save the file where you will easily find it like your desktop or download folder.

For best results: Login as Admin until you have fully installed the application.

2. Double click on zip file to extract the .dmg.

3. Drag and drop talygen into applications folder

4. Open applications and find talygen, double click on it to launch Talygen.

5. During installation, if any hidden files are active then this is due to enabling your hidden files and folders in your MAC settings. To disable these settings please follow below points:
Launch terminal
Type: defaults write com.apple.Finder AppleShowAllFiles FALSE
Type: killall Finder
If you encounter any problems with the installation process, please contact us.
The prerequisites for offline mode MAC Application:-
1. The Desktop application is computer specific. The User has to take care that he/she must be on personal computer not on shared computers to enforce security of his/her data.

2. User has to log-in to the desktop app once with internet connection, after that he/she can shift over the offline mode.

3. In order to track time in 'Offline mode', users have to enable 'Offline Tracking' from User wise Configuration setting.

4. Time limit for 'tracking offline entries in days' can be set from configuration settings under screen shot functionality module.

5. Help button is disabled in offline mode.

6. Free trail, Paid link, help link and forgot password do not work in offline mode.

7. Sync button will not be shown to the user when offline tracking is disabled.

8. Whenever user login first time he/she have to sync the data first in order to synchronize with the web.

9. Pause/Resume button is disabled in offline mode.

10. If a user changes password from web then he/she must synchronize once.

11. User has to synchronize data to perform other tasks while he/she comes to online from offline even if the entry is running.

12. Please keep in mind that you have only one internet connection instance on your system at a time while using desktop app in offline mode.

13. Overlap functionality will not work for desktop app in offline mode.

14. The Future time entries are not allowed in desktop application.

15. On a particular system, multiple users can track time in offline mode but at least once user has to log-in with internet connection.
The prerequisites for MultiScreen MAC Desktop Application:-
1. For using multi screen screenshot functionality your multi screen setting must be enabled. To enable multi screen setting, contact your Company Admin.

2. If no display (screen) is selected, screenshot will be captured from the primary screen. User can select only one screen at a time and screenshot of the selected screen will be captured.