Windows Desktop Application
How do I download the Talygen Application for Windows?
Click on the DOWNLOAD button. It will open a popup window from where you can save the .msi file of the application on your hard drive.
Tips
Log in as the administrator of your computer.
Temporarily disable your anti-virus software until the application is fully installed.
Make sure the time/date settings on your computer are correct.
Download when your Internet connection is strong and stable.
Close any unnecessary programs.
If you experience any problems downloading or installing the Talygen Application, please contact us.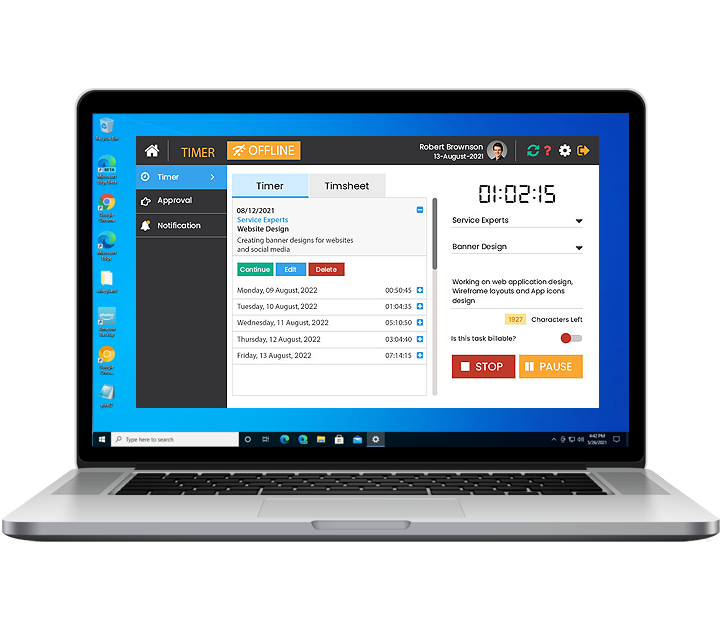 What is new in version 6.0?
Manages running time tracker entry on multiple devices simultaneously.
Invite Clients feature has been added in event management.
A new field of contact has been in the CRM module.
Upgraded with Virtual User feature.
Under the approval rule we have done new modifications in the functionality.
Moreover, several UI, stability and usability improvements have been made in Talygen.
Under the Approval Module new features; Timesheet Approval, Time Approval, Leave approval and Expense approval have been added.
This version enables you to accurately view paused hours in the Timesheet.
How do I Install the Talygen Application for Windows?
Download the Talygen application, which includes an .msi file. Save the file where you will easily find it like your desktop or download folder.

For best results: Login as Admin, temporarily turn off anti-virus software until you have fully installed the application.
Double-click on the successfully downloaded setup.msi file to run the installer. When the installer opens press Install.
The installer will install the necessary file. When you see the Installation Complete screen, you are ready to launch the Talygen application.
If you encounter any problems with the installation process, please contact us.
The prerequisites for offline mode Windows Desktop Application
The Desktop application is computer specific. The User has to take care that he/she must be on personal computer not on shared computers to enforce security of his/her data.
User has to log-in to the desktop app once with internet connection, after that he/she can shift over the offline mode.
In order to track time in 'Offline mode', users have to enable 'Offline Tracking' from User wise Configuration setting.
Time limit for 'tracking offline entries in days' can be set from configuration settings under screen shot functionality module.
Help button is disabled in offline mode.
Free trail, Paid link, help link and forgot password do not work in offline mode.
Sync button will not be shown to the user when offline tracking is disabled.
Whenever user login first time he/she have to sync the data first in order to synchronize with the web.
Pause/Resume button disabled in offline mode.
If a user changes password from web then he/she must synchronize once.
Do not sync data while entry is running as it will hamper the user's data.
Please keep in mind that you are having only one connection instance on your system at a time while using desktop app in offline mode.
Overlap functionality will not work for desktop app in offline mode.
The Future time entries will be deleted while synchronizing time entries in desktop application.
The prerequisites for MultiScreen Windows Desktop Application
For using multi screen screenshot functionality your multi screen setting must be enabled. To enable multi screen setting, contact your Company Admin.
If no display (screen) is selected, screenshot will be captured from the primary screen. User can select only one screen at a time and screenshot of the selected screen will be captured.